Marc Jacobs once said "I don't think there is ever a wrong time for a polka dot!", and I have to agree. Whether it's on a dress, pant, top or jacket; casual, corporate or cocktail - the polka dot is a timeless print classic. Google image search polka dots fashion and you'll discover 1) Polka dots never go out of style and 2) This delightful and entirely confusing image of George Clooney.  Has Amal seen this George?  Anyway, the point is that polka dots are great and you can wear them always! So you should! Shop the Shoot Shop the...
---
If you get the sublime 90's television reference in this weeks title - I applaud you, lets do trivia night some time. But enough about 90's TV magic and more about this week's festival inspired shoot! Whether you are young/old/rich/poor/hungry you would be well aware of the word 'Coachella' and it's steady rise in the pop culture lexicon. Every year beautiful celebrities that look like a marching herd of slender gazelles make their way into the L.A desert for 3 weekends in April to dance to live music and embrace their inner boho goddess. Now, I know we don't live...
---
• Blogger • Brisbane Blogger • Denim • Design • Fashion • Fashion Blog • Fashion Edit • Fashion News • Fashion Trend • Graphic Design • Jeans • Jeggings • Jumpers • Knits • Knitwear • Mixed Media • Style • Style Edit • Style News • Style Trend • Trending • Trends • Winter • Winter Edit
With winter most definitely here it is time to rug up and embrace those super comfortable and toasty knits. It's important to remember that you can avoid looking like a lumpy sack of potatoes that's been forgotten at the back of the pantry. While its necessary to rug up against the cold there are plenty of options available to keep you warm and on trend. There are so many ways to wear a good knit - and so many good knits to wear! We've put together a group of our current favourites to make the hunting easy for you. Paired with...
---
• Blog • Blogger • Brisbane Blogger • Design • Fashion • Fashion Blog • Fashion Edit • Fashion News • Fashion Photography • Fashion Trend • Graphic Design • Jackets • Mixed Media • Punk • Style • Style Edit • Style News • Style Photography • Style Trend • Trending • Trends • Winter • Winter Edit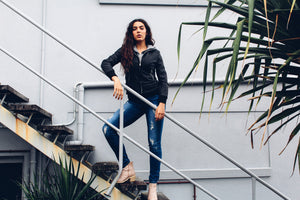 Winter is the perfect time to experiment with textures and layering. A simple jean/tee/singlet combo can be made completely different by adding a jacket or vest. We've teamed our current fave Country Denim Jean with a variety of faux denim jackets and vests that are perfect in the lead up to winter.  Shop the Look   Photography by Paris Feutrill - Graphic Design by Kelsey Does Design, www.kelseydoesdesign.com